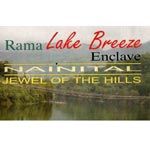 Rama Lake Breeze Enclave

RAMA LAKE BREEZE ENCLAVE (NAUKUCHIA TAL) Naukuchiatal is located in central himalayas (Kumaon) and falls in the buffer zone between the indo Himalaya and palaearctic climates. The spring-summer season in the zone is amazingly beautiful. While Naukuchiatal itself has a hundred and more charms of its own, there are a number of other preety places close-by. Nainital, the queen of kumaon is just an hour's drive away. The majestic royal bengal tigers of corbett are not too far away either...
If it is a slice of the sky, a heavenly lake or a Himalayan hideaway that you are looking for.... find them all when you arrive at our project. Wspecially designed for the Elite Class of the Society.... A Project with the frangrance of nature and touch of God.... Here you get the peace of mind with adventure inbuilt....
A Project where u "BUY BETTER & GET THE BEST"